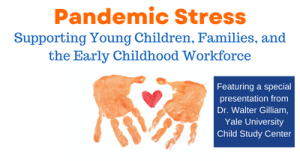 It is time to Think Babies and make their potential our priority!
Join ACNJ and partners including the New Jersey Association for Infant Mental Health  (NJ-AIMH), the Montclair State University Center for Autism and Early Childhood Mental Health, the Coalition of Infant/Toddler Educators (CITE), the New Jersey Association for the Education of Young Children (NJAEYC), the Statewide Parent Advocacy Network (SPAN) and the New Jersey Breastfeeding Coalition on Monday, October 18th at 10:00 am for a webinar featuring Dr. Walter Gilliam from the Yale University Child Study Center to kick off Celebrate Babies Week.
The webinar, Pandemic Stress: Supporting Young Children, Families and the Early Childhood Workforce will discuss what impact the pandemic has had on the social-emotional well-being of young children, their families and the early childhood workforce. The webinar will conclude with a panel discussion on the Socio-Emotional Formation Initiative (SEFI), a free program that provides consultation to all early childhood programs in New Jersey to support the adults who care for infants and young children to reduce stress and promote relational developmental health.