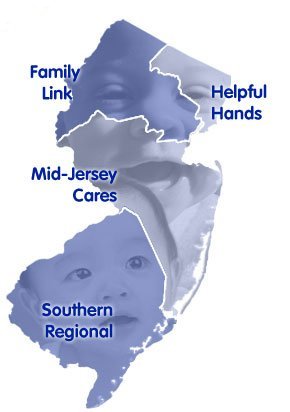 NJ Early Intervention System's mission is to enhance the capacity of families to meet the developmental and health related needs of children birth to age three who have delays or disabilities by providing quality services and support to families and their children.

"Safe Sleep (Environments) for Babies" Campaign
Sponsored by Keeping Babies Safe, the American Academy of Pediatrics and the U.S. Consumer Product Safety Commission.
Keeping Babies Safe www.keepingbabiessafe.org is a 501 (c)(3) nonprofit that provides education, assistance and leadership in keeping babies safe from preventable injuries associated with unsafe cribs and unsafe sleep environments. Keeping Babies Safe offers crib and sleep safety information, safety tips, and product recall information so parents can stay informed and remain vigilant about keeping their children safe. Keeping Babies Safe, in connection with the American Academy of Pediatrics, and the U.S. Consumer Product Safety Commission, created "Safe Sleep (Environments) for Babies" educational videos that are being implemented in hospitals and health clinics nationwide to reach as many new and expecting parents as possible.
Center for Autism Research at Children's Hospital of Philadelphia announces: STUDY on AUTISM.
Our infant sibling study (IBIS) focuses on how the brain develops differently in infants with autism compared to typically developing children. The goal of the study is to identify very early brain features that may be characteristic of autism. This information may help improve methods of early detection and intervention for infants who may be at risk for an autism spectrum disorder. Earlier treatment may lead to better outcomes for these young children and their families.
We are seeking to enroll families who have a child with an autism spectrum disorder and an infant sibling 12 months old or younger. We are also enrolling families who have typically developing infants 6 months old or younger and who have a typically developing older sibling. Babies will come to The Children's Hospital of Philadelphia at 6, 12, and 24 months of age to receive developmental evaluations and magnetic resonance imaging (MRI) scans. Parents will receive comprehensive evaluation reports at no cost and will be paid for their family's time and travel.
Stephanie Colantonio
Clinical Research Assistant
Center for Autism Research
The Children's Hospital of Philadelphia
3535 Market Street, Suite 860
Philadelphia, PA 19104
phone: 267-426-4914
fax: 267-426-7590
email: colantonios@email.chop.edu
http://www.centerforautismresearch.com/match/