NJ Infant/Toddler Credential renewal requires the completion of the Renewal Application:  ITC_Renewal_Application_12-2017
Return your completed application via email to administrator@njcite.org.
Your renewal application will be reviewed and a response will be sent to you within 30 days.
If you have any questions or concerns, please feel free to reach us at administrator@njcite.org.
Thank you in advance for your continued partnership in providing quality child care to infants and toddlers, our most vulnerable population.
Sincerely,
Cynthia Soete, President
As professionals working with very young children, you know first-hand that mental health is not something that pertains only to adults or older children. ZERO TO THREE's 2015 Huffington Post blog focused on how parents, caregivers, and professionals can promote a baby's mental health. The blog post is the first in a three-part series exploring the mental health needs of very young children. Stay tuned for future posts on strategies to prevent mental health problems in young children, and effective treatment for those with diagnosed mental health disorders.
Start a conversation about infant and early childhood mental health. Encourage your colleagues to read Babies' Mental Health Matters.  Be sure to share your perspective as an infant-toddler professional. How do you promote mental health with young children as part of your work? To provide more information about infant and early childhood mental health, share this link: bit.ly/ZTTIMH .
Share Babies' Mental Health Matters on social media. Use the sample posts below to spread the word!   Twitter: #DidYouKnow that babies have mental health? Learn more from @ZEROTOTHREE's latest @HuffPostParents blog: http://huff.to/1e3Ttjk     Facebook: Babies' Mental Health Matters! Learn more from ZERO TO THREE's recent Huffington Post blog – the first in a three-part series exploring the mental health needs of very young children. http://www.huffingtonpost.com/matthew-melmed/babies-mental-health-matters_b_7213290.html
Published in The Star-Ledger on Monday, November 6, 2017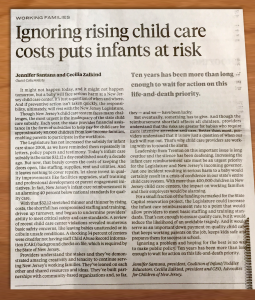 It might not happen today, and it might not happen tomorrow, but a baby will face serious harm at a New Jersey child care center. It's just a question of when and where. And if preventive action isn't taken quickly, the responsibility, ultimately, will rest with the New Jersey Legislature.

Though New Jersey's child care system faces many challenges, the most urgent is the inadequacy of the state child care subsidy. Each year, the state provides financial assistance in the form of subsidies to help pay for child care for approximately 80,000 children from low-income families, enabling parents to participate in the workforce.

The Legislature has not increased the subsidy for infant care since 2008, as we have reminded them repeatedly in letters, policy papers and testimony. Today's infant care subsidy is the same $32.12 a day established nearly a decade ago. But now, that barely covers the costs of keeping the doors open, like staffing, supplies, rent and utilities. And it leaves nothing to cover repairs, let alone invest in quality improvements like facilities upgrades, staff training and professional development or parent engagement initiatives. In fact, New Jersey's infant care reimbursement is an alarming 40 percent below national standards for quality care.

With that $32.12 stretched thinner and thinner by rising costs, the shortfall has compromised staffing and training, driven up turnover, and begun to undermine providers' ability to meet critical safety and care standards. A review of recent child care center violations revealed numerous basic safety concerns, like leaving babies unattended or in cribs in unsafe conditions. A shocking 34 percent of centers were cited for not having staff Child Abuse Record Information (CARI) background checks on file, which is required by the State of New Jersey.

Providers understand the stakes and they've demonstrated amazing creativity and tenacity to continue serving New Jersey's working families. They've leaned on each other and shared resources and ideas. They've built partnerships with community-based organizations and, so far, they – and we – have been lucky.

But eventually, something has to give. And though the reimbursement shortfall affects all children, providers understand that the risks are greater for babies who require more intensive attention and care. Better than most, providers understand that it is now just a question of when our luck will run out. That's why child care providers are working with us to sound the alarm.

Leadership from Trenton on this important issue is long overdue and the silence has been deafening. Increasing the infant care reimbursement rate must be an urgent priority for the Legislature and New Jersey's incoming governor. Just one incident resulting in serious harm to a baby would certainly result in a crisis of confidence in our state's entire child care system. With more than 400,000 children in New Jersey child care centers, the impact on working families and their employers would be alarming.

For a small fraction of the funding earmarked for the State Capitol renovation project, the Legislature could increase the infant care reimbursement rate to a point that would allow providers to meet basic staffing and training standards. That's not enough to ensure quality care, but it would reduce the likelihood of an avoidable tragedy. And it would serve as an important down payment on quality child care that keeps working parents on the job, keeps kids safe and prepares them for success in school.

Ignoring a problem and hoping for the best is no way to make public policy. Ten years has been more than long enough to wait for action on this life-and-death priority.

Jennifer Santana, President, Coalition of Infant/Toddler Educators
Cecilia Zalkind, President and CEO, Advocates for Children of New Jersey