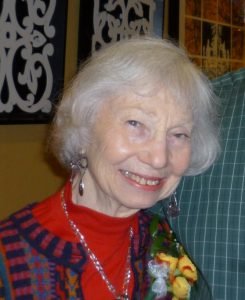 CITE founder, June Moss Handler, 94, died on November 6, 2017 at her home in Hackensack, NJ.
For more than four decades, Dr. Handler dedicated her life to best practices in infant and early childhood care and education.  As a professor at Kean University, Dr. Handler introduced new courses on infant and toddler development and trained her students at the first Babyland infant care center in a high-rise Newark housing project. In this role, she educated generations of leaders in the field.  As an authentic social activist, she convinced Crayola to change their "flesh" colored crayon to "peach" – because skin is of many colors!  Through her infectious hope, magic and excitement to see beyond the horizon, and her insistence that infants and toddlers be recognized as unique members of society, she has given a voice for those who have none. Her book, Infants and Toddlers as Members, Makers, Interpreters: A Philosophical Journey, remains a record of the deepest respect and insights about infants and young children.
Under Dr. Handler's leadership, CITE set the standards for the initial licensing of 466 infant/toddler care centers throughout NJ and trained hundreds of infant/toddler caregivers.  CITE, since its founding 34 years ago, has become the lead agency advocating for and affecting public policy for young children's rights.  In 2013, CITE introduced the June Handler Award which recognizes an individual who has earned the NJ Infant/Toddler Credential, demonstrates continued advocating for infants and toddlers, and supports the professional development of others. The Award is presented at the annual conference.
At the request of Dr. Handler's family, CITE has established the June Moss Handler Memorial Fund.  Contributions to the fund may be designated for the June Handler Award or to assist individuals to attain the NJ Infant/Toddler Credential. (NOTE: The State no longer supports scholarships for the Credential, so contributions will assist applicants with the $350 application fee.)
If you wish to remember Dr. Handler in a meaningful way, please donate by pressing the donate button on the right navigation column or mail a check to:  CITE, PO Box 1015, Barnegat Light NJ  08006
All donations are tax-deductible.